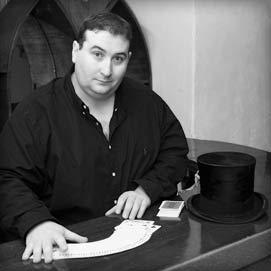 Craig Stephenson is a highly experienced York based magician, working across Yorkshire and the North East. He specialises in magic for grown-ups and his style of magic is natural, close-up, in bars and restaurants, performing card and mind control illusions to make for a truly memorable night out or special occasion.
Craig improvises. There's no set repertoire of tricks, no separate "show" and "audience". No barriers. Everyone can get close-up, and even challenge Craig with their personal cards, coins or everyday objects and feel part of the act. They'll be even more dazzled and convinced by being so directly involved. Craig doesn't rely on gimmicks or stooges, but does create a truly interactive, fun and non-cheesy experience that will baffle and amuse his audience.
Craig is very well versed in psychological techniques and mind control illusions used by modern performers such as Derren Brown, Luke Jermey, Andy Nyman and other leading mentalists and this brings an extra dimension to his magical performance. Using highly impressive mind reading and influencing skills, Craig can stun even the most cynical members of the party, and will leave his audience believing anything is possible.